Since well before inauguration day, the Biden administration indicated that it would immediately take action to undo the deregulation agenda of the previous administration. As part of this effort, President Biden is expected to nominate a new commissioner and chair to the Consumer Product Safety Commission (CPSC) in the coming months. This nomination and subsequent confirmation by a Democrat-controlled Senate will bring the CPSC's leadership back to its full five-person strength. It will also allow the CPSC to usher in a new era of increased regulation and more aggressive enforcement. Consumer product manufacturers, distributors, and retailers should brace themselves for enhanced scrutiny and a potential departure from the status quo of the past several years.
The Washington Post reported that the number of product safety recalls fell for three consecutive years under the Trump administration.1 In 2019, CPSC announced 241 recalls.2 This total was down 7 percent from 2018, which itself was 8 percent lower than the total from the year before.3 These years were also marked by a consistent decline in the number of companies facing civil penalties for failure to follow safety rules and regulations.4
Possibly as a result of that record, on November 11, 2020, seven consumer product safety groups initiated a collective push for a more active and aggressive CPSC via an eight-page memorandum addressed to "the Biden Transition."5 Representatives from the American Academy of Pediatrics, the Consumer Federation of America, Kids In Danger, Public Citizen, and the U.S. Public Interest Research Group (PIRG), among others, signed the memorandum and advocated for a number of administrative and legislative actions, including:
Increased use of compliance and enforcement mechanisms like public preliminary determinations that corrective action will be required, formal administrative or legal complaints for recalls, and market surveillance;
The imposition of meaningful civil penalties on corporate violations of consumer product safety laws and retention of the credible use of criminal penalties, including working with the Department of Justice to prosecute those who break the law;
The immediate promulgation of rules for infant sleep products and furniture safety;
Filling leadership positions with experts dedicated to consumer safety;
Passing a comprehensive CPSC reform bill that includes changes to Sections 6(b) and 7(b) of the Consumer Product Safety Act; and
An expansion of the agency with an increased budget.
The memorandum was published less than a week after news outlets announced Joe Biden as the winner of the 2020 election—a critical period where then President-elect Biden and Vice President-elect Kamala Harris worked to assemble their administration and solidify a policy agenda. Through this memorandum, consumer product safety advocates sought to insert themselves into the agenda-making process and help determine the direction of the CPSC for the next several years.
The CPSC is an independent agency comprised of five commissioners who are nominated by the president and confirmed by the Senate to serve staggered seven-year terms. After confirming President Trump's first two nominees, Dana Baiocco and Peter Feldman, in 2018, the Senate failed to confirm a third Republican commissioner nominee or a chairman nominee. This left the CPSC one commissioner short, with the existing Democrat-appointed commissioners Robert Adler and Elliot Kaye already in place at that time serving their respective terms.
Kaye's term expired in October 2020, but he continues to hold his seat until this October for a statutorily permitted one-year holdover period. Adler's term is set to expire this October. When considering the pre-existing vacancy from Trump's presidency, Biden faces three potential opportunities to staff the commission. Who Biden will choose to nominate has yet to be determined, but it seems likely that a Democrat-controlled Senate will confirm those choices. Thus, the consumer product safety groups' emphasis in their memorandum on the nomination and appointment of seasoned advocates is unsurprising.
Both Baiocco and Feldman have terms lasting well into the Biden administration's first four years. Between the two of them, Feldman has consistently advocated for increased scrutiny, stricter enforcement, and steeper penalties.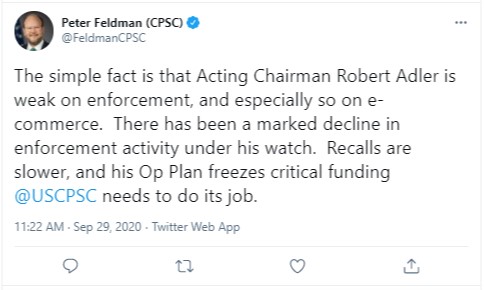 If Feldman is joined by two similarly minded Biden appointees, there will likely be a tidal shift at the commission. Consumer product manufacturers, distributors, and retailers should revisit their compliance strategies and prepare for imminent changes.
Footnotes
1 Todd C. Frankel, Product recalls under Trump fall to lowest level in 16 years, but new signs emerge of a tougher regulator, The Washington Post (Jan. 13, 2020), https://www.washingtonpost.com/business/2020/01/13/product-recalls-under-trump-fall-lowest-level-16-years-new-signs-emerge-tougher-regulator.
2 https://www.cpsc.gov/Recalls.
3 Frankel, supra, fn.1.
4 Id.
5 https://kidsindanger.org/wp-content/uploads/2020/11/Product-Safety-Transition-Memo-2020.pdf.