Francis M. McDonald, Jr.
Florida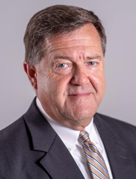 McDonald Toole Wiggins, P.A.
111 N. Magnolia Avenue
Suite 1200
Orlando, FL 32801
Tel: 407-838-4065

Email:

fmcdonald@mtwlegal.com
Web:

www.mtwlegal.com
Frank McDonald is a Florida Bar Board Certified Civil Trial Lawyer, the highest recognition of competency, professionalism and expertise awarded by the Bar. Throughout his entire career as a trial lawyer in private practice, he has defended product manufacturers and other business entities in complex tort litigation in state and federal courts throughout the southeastern United States.
This practice has included the defense of motor vehicle companies in crashworthiness litigation as well as medical device companies, equipment manufacturers, pharmaceutical companies, oil and gas companies and other makers of consumer products in products liability and toxic tort matters.
In 2008, he was invited to become a fellow in the American College of Trial Lawyers. He has received numerous awards and honors for his legal accomplishments and has spoken at various seminars on topics that pertain to trial practice.
He has tried over 65 lengthy cases to verdict in Florida, Georgia, Alabama, North Carolina and South Carolina. Mr. McDonald started his legal career in Orlando after a clerkship at the Eleventh Circuit Court of Appeals with the Honorable Joseph W. Hatchett.
McDonald Toole Wiggins, P.A. is dedicated to representing manufacturers and other businesses involved in complex civil litigation. Such businesses face legal challenges in a variety of ways.  Not every dispute results in a lawsuit, and not every lawsuit results in a trial.  But every matter we are entrusted to handle is analyzed, investigated and prepared, as if it will.  We demonstrate this dedication through innovative technology, and cost-conscious solutions to our clients' needs.
We have one, and only one, core principle to our firm's philosophy:  Our clients' interests are paramount in every action we take.  And we know of only one way to protect those interests, and that is simply thorough preparation and hard work.  We strive to accomplish this in a cost-effective, realistic manner.
At McDonald Toole Wiggins, P.A., we pride ourselves on this principle.  While we recognize that a trial does not occur in the majority of cases, we believe the best results are achieved by demonstrating the skill and preparation necessary to ably try a case.  This is the reputation we have worked diligently to ensure.
We have consciously formed our firm to provide the quality of services typically found only in larger, national law firms.  Boutique in size, but not in experience, McDonald Toole Wiggins, P.A. is committed to a workplace diverse in its members and responsive to its clients.