Gary J. Saalman
Ohio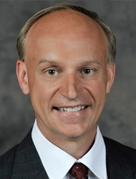 Vorys, Sater, Seymour and Pease LLP
52 East Gay Street
Columbus, OH 43215
United States
Tel: 614.464.5678

Email:

gjsaalman@vorys.com
Web:

www.vorys.com
Gary is a partner in the Vorys Columbus and Houston offices and a member of the litigation practice group. He represents companies in complex commercial, product liability litigation, and advises clients on document retention and e-discovery obligations.
Gary is national counsel for a Fortune 200 company in asbestos, benzene, chemical and product liability litigation, and has appeared as the first chair trial lawyer in New York, California, Pennsylvania, Florida, Illinois, Texas and Georgia. Gary also serves on national trial teams and as Ohio counsel for other Fortune 500 companies.  He has litigated complex commercial litigation before courts and arbitration panels involving breach of fiduciary duty, conversion, breach of contract, tortious interference, and legal malpractice claims.
Gary defends product manufacturers in suits involving workplace and highway traffic fatalities, and cases in which cancers and severely-disabling injuries are alleged to result from chemical exposures.
Gary also advises clients on the identification, preservation and collection of ESI and designs litigation hold protocols to ensure compliance with federal and state rules.  He has worked with corporate, environmental, and labor attorneys to develop efficient and compliant document retention, IT, and archiving practices.  He has presented to judges, local rules committees, and practitioners on ESI at the Sixth Circuit Judicial Conference and at various CLEs in the Midwest.
Gary received his J.D. magna cum laude from Notre Dame Law School where he was the Executive Articles Editor of the Notre Dame Law Review.  He received his B.S. from Miami University.
Gary clerked for The Honorable Alan E. Norris of the U. S. Court of Appeals for the Sixth Circuit.
Before joining Vorys, Gary served in the U. S. Department of Justice, Office of Legal Counsel in 1989 and was an Assistant District Attorney in Harris County, Texas from 1996-1997.
Vorys attorneys have been litigating product liability claims for decades.  Our practice and experience is extensive and national in scope—we have litigated everything from high profile multi-jurisdictional mass tort cases in federal courts to single plaintiff cases in state courts.  Our product liability attorneys have represented both plaintiffs and defendants at all stages of litigation, including trial, giving us unique insights that benefit all of our clients involved in product liability litigation.  We also serve as national counsel to several Fortune 500 companies with respect to their product liability matters.
Vorys attorneys know how to vigorously and effectively litigate product liability claims to return maximum value to our clients. Our product liability attorneys are highly skilled in identifying threshold legal issues that may bring early resolution of matters. When cases proceed to discovery, our attorneys are familiar with qualified expert witnesses in a variety of specialties who may be called upon to aid in the prosecution or defense of claims. We are always prepared to go to trial and vigorously pursue our clients' interests before juries or the court.
In addition, our attorneys have been actively involved in state and federal tort reform focused on product liability and toxic torts.  We regularly assist our clients by evaluating tort reform proposals, drafting proposed legislation, and preparing testimony for legislative hearings.  For example, our products liability attorneys were involved in drafting and testifying on the first laws nationally to reform the standards applicable to public nuisance, asbestos and silica litigation, and the abrogation of common law claims in Ohio.
Vorys, Sater, Seymour and Pease LLP provides business and legal counsel to clients throughout the United States and around the world.  Since its founding in 1909, our firm has grown into one of the largest law firms in the country, with nearly 375 attorneys who are located in eight offices in Ohio, Washington, D.C., Texas, Pennsylvania and California.
Our firm is proud to represent thousands of clients, who range from start-up businesses to Fortune 500 corporations, from non-profit organizations to governmental entities and industry trade groups, and from individuals needing estate planning advice to defendants embroiled in sprawling, multi-state class action litigation.  We offer each of those clients – large and small – an unflagging commitment to excellent legal representation and outstanding client service.
Our practices span the spectrum of legal services, and include all forms of litigation, labor and employment law, corporate law, commercial law, and tax law.  The ranks of our lawyers include  Fellows of the American College of Trial Lawyers, dozens of former federal and state law clerks, and individuals selected by their peers to head state and national organizations focused on antitrust, bankruptcy, and trial practice, among other areas.
Our lawyers come from the finest law schools in the country, and we offer them a culture that is committed to diversity, collegiality, teamwork, professional development, community involvement, and pro bono activities.  Our firm has been a leader in recruiting and encouraging diverse talents.  Our firm is one of the few large law firms to have received the prestigious Pro Bono Publico award from the American Bar Association, reflecting our deep commitment to pro bono work.