James E. Hooper, Jr.
Colorado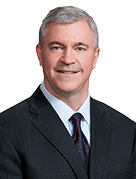 Wheeler Trigg O'Donnell LLP
370 Seventeenth Street
Suite 4500
Denver, Colorado 80202
Tel: 303.244.1849

Email:

hooper@wtotrial.com
Web:

www.wtotrial.com
James Hooper defends manufacturers in high-stakes and high-profile mass tort litigation involving complex scientific issues. He handles cases ranging from federal multidistrict litigation involving prescription medications to wrongful death lawsuits, and numerous product liability and commercial disputes in between. Jim is nationally ranked in Chambers USA for product liability and mass torts defense.
Jim joined WTO at its inception and became its first elected partner in 1998.  Jim is a West Point and Michigan Law School graduate who has spent the past 20 years helping American businesses defend complex, scientifically and technically challenging lawsuits in more than 20 states.  He has tried, served as national counsel, and litigated numerous types of lawsuits, ranging from products liability to civil RICO and federal land use.  His work most often centers on high-profile, large-exposure, and expert-intensive cases involving challenges to the design, risk and safety profiles, and marketing of pharmaceuticals, medical devices, building materials, and similar products.  Jim's cases have resulted in significant and helpful judicial decisions in the areas of expert scientific evidence, product safety warnings, and medical causation.
Jim was elected by his peers to serve as a member of the Pfizer Legal Alliance (PLA) Roundtable, a strategic planning and oversight group for 19 nationally renowned law firms that provide legal services to the world's largest pharmaceutical company.  He is listed in Chambers USA, The Legal 500 US, International Who's Who of Life Sciences Lawyers, and Colorado Super Lawyers. Jim's clients described him to Chambers USA as "very talented in the courtroom, thoughtful and creative."
In 2022, Chambers USA ranked WTO among the top 27 "Elite" firms nationwide for product liability and mass torts defense. As one client reported to Chambers, WTO is "particularly strong in their strategy and approach to cases, helping us decide when to fight and when to settle."
Only a few firms nationally match WTO's experience in product liability litigation. Fewer still can approach our efficiency and cost effectiveness in this field. WTO lawyers have served as national, regional, and lead trial counsel, and as national coordinating counsel, for many well-known companies. Our firm has prevailed in scores of high-stakes and highly visible product liability cases nationwide.
Since 1998, Wheeler Trigg O'Donnell has been at the forefront of some of the nation's most critical and industry-changing trials and litigation. From complex commercial disputes to consumer class actions and catastrophic torts, few firms can match our passion for client service, stand-up experience, and deep trial bench.
We cultivate trust and communication with clients, building our strategies and tactics around your goals and priorities.
WTO lawyers have taken more than 1,100 trials and arbitrations to verdict or award, and hundreds of appeals to opinion, in 45 states and Washington, D.C.
With approximately 100 attorneys, eight WTO lawyers are Fellows of the American College of Trial Lawyers, and three are Fellows of the International Academy of Trial Lawyers. Our firm has one of the highest percentages of ACTL Fellows nationwide.
"James Hooper is well regarded for his strength across a range of product liability disputes, including asbestos litigation, pharmaceutical cases and toxic torts."