Jeffrey T. Nichols
Wisconsin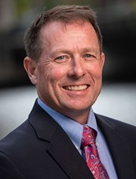 Crivello Carlson S.C.
710 N. Plankinton Ave
Suite 500
Milwaukee, WI 53203
Tel: 414-290-7549

Email:

jnichols@crivellocarlson.com
Web:

www.crivellocarlson.com
Jeff is a long standing member of the Board of Directors at Crivello Carlson and is the firm's president. He is National Trial Counsel for one of the Country's leading manufacturers of compact farming and construction equipment and assists as National Counsel for a leading manufacturer of outdoor power equipment. He has also served as National Counsel for one of the Country's leading manufacturers of boilers and water heaters and works with several multi-national companies on product performance issues and product liability claims.
Jeff has been elected by his peers for membership in the American Board of Trial Advocates (ABOTA) and presently serves as President. He has been given the highest possible peer review rating by Martindale Hubbell (A/V), has been selected as a Wisconsin Super Lawyer, has been recognized by the Wisconsin Defense Counsel as Advocate of the Year (2016) as well as selected for inclusion in US News and World Report: Best Lawyers in America and Lawyer of the Year: Defense in 2019.
Over the past 30 years Jeff has litigated cases throughout the country in both State and Federal courts, including more than 75 cases tried to jury verdict. Jeff has been admitted pro hac vice in over 25 states and has tried cases to juries in Texas, New York, Kansas, Connecticut and California (multiple times). He has successfully represented clients in jury trials dealing with issues ranging from catastrophic injuries, quadriplegia, amputations, wrongful deaths and contract disputes. Many of his trials involved claimed damages in excess of $1Million and involved alleged malpractice, product defects, performance and warning issues.
Earlier in his career, while working at Crivello Carlson Jeff was a member of the trial team involving litigation surrounding a manufacturer of one of the world's larges mobile cranes. That lawsuit arose out of the construction of the Miller Park Baseball Stadium in 2001 when a crane collapsed resulting in the deaths of three workers. At the conclusion of the trial the court ruled the crane was not defective as a matter of law and co-defendant was responsible for approximately $100 Million in damages.
In 2017 Jeff defended a telehandler manufacturer in a five week jury trial in Sonoma, California. Plaintiff's attorney had asked the jury to award his client $26Million following a double amputation that plaintiff claimed was caused by a defective machine. After three days of deliberation the California jury found that Jeff's client was not negligent and the product was not defective, for a complete defense verdict.
Closer to home Jeff is proud to sit on the Board of Directors for one of the clients that he has represented for nearly 30 years. He has tried numerous cases to juries throughout the State involving automobile accidents, products liability, medical malpractice and fire loss claims with great success.
The product liability defense lawyers at Crivello Carlson, S.C. have appeared in courts in virtually every state in the U.S. over the past 50 years. We have tried cases from California to Texas, New York to Minnesota and most states in between.
We defend products from multi-million-dollar cranes and industrial boilers, to consumer products and appliances like water heaters and air conditioners, to personal products, like lawn mowers and small engines, to component part manufacturers, like valves, motors and controls, and dozens of products in between. We successfully represent our clients in product liability claims and cases in Wisconsin and throughout the nation and regularly consult with international counsel in claims involving our clients' products outside the United States. Our lawyers frequently lecture on the application of product liability laws in the State of Wisconsin to clients and to our fellow members of the Bar.
Our firm leads the way in the defense of product liability cases in the State of Wisconsin, with innovative approaches to the defense of these claims, which invariably lead to better results for our clients.
At Crivello Carlson, S.C. our clients get more than a promise when they need representation in the courtroom. They get solid performance from a law firm whose members have successfully represented industry, government, insurance companies and individuals for over 60 years. They also receive the services of lawyers with state-of-the-art facilities and who are uniformly recognized by their peers and the judiciary as leaders in the profession.
No amount of experience, or even superior ability, is sufficient if the performance of an attorney or law firm is inconsistent. We understand that consistency is the basis for most long-term business relationships. Therefore, whether our clients are coming to us for the first or fiftieth time, they are provided the same level of dedication and performance. Our consistency is evidenced by the growing list of corporate and business clients who have been with us for two, three and even four decades.
The integrity of a law firm is the thread that ties together all aspects of the relationship between client and lawyer. Successful legal representation is based as much on the integrity with which the legal services are rendered as on the proficiency of the attorney. Strict adherence to this belief has earned Crivello Carlson, S.C. its reputation as a law firm that deals honestly and fairly with clients, peers and judiciaries. Over the years, in response to the needs of our clientele, our firm began to assume a national character. Today, Crivello Carlson, S.C. manages and directly provides legal services in almost every state in the United States.