Jim Murdica
Illinois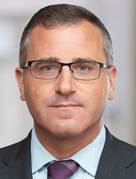 Barnes & Thornburg LLP
One N. Wacker Drive
Suite 4400
Chicago, IL 60606-2833
Tel: 312-214-4869

Email:

jmurdica@btlaw.com
Web:

www.btlaw.com
Jim Murdica is chairman of the Product Liability and Mass Torts practice. Since 2016, Jim has been recognized by Chambers USA for his work in product liability and mass tort in the nationwide category.
Jim's practice focuses on the defense of pharmaceutical, medical device and consumer product litigation in state and federal courts nationwide, particularly consolidated mass torts and multi-district litigations.
In Chambers, clients describe Jim as having "[a]n incredible ability to synthesize complex scientific issues into very persuasive arguments that can be used both in court and in negotiations with the other side."
He serves as national coordinating counsel and MDL counsel for consolidated litigations across the U.S. involving thousands of plaintiffs as well as in numerous single-plaintiff cases involving pharmaceuticals, consumer products and medical devices. In conjunction with those roles, Jim emphasizes efficient discovery and manages significant mass tort e-discovery undertakings for his clients.
Regarding pharmaceutical and biologic manufacturers, Jim's experience includes:
Coordinating the national defense of a prescription diabetes drug alleged to have caused a multitude of injuries
Coordinating the national defense and acting as MDL counsel for the defense of several thousand litigations and claims alleging serious nervous system and vascular injuries from the use of a prescription antibiotic
Coordinating the national defense of hundreds of consolidated litigations alleging birth defects from exposure to an anticonvulsant medication in the Philadelphia Mass Torts Division
Coordinating the defense of consolidated state litigations in California alleging a life-threatening skin condition and tendon injuries from the use of a prescription antibiotic
Defending or assisting in the defense of consolidated and single plaintiff litigations regarding: anticoagulant medication, antidiabetic mediation, antipsychotic medications, antiepileptic medication, antibiotic medications, and various biologics that inhibit factors and bind proteins
With a national ranking in Chambers USA, our Product Liability and Mass Torts practice is recognized among the finest in the country. For more than 35 years, Barnes & Thornburg's skilled team has defended Fortune 500 manufacturers in sophisticated product liability matters across nearly every industry – including pharmaceuticals, medical devices, chemicals, appliances, automotive products, heavy industry, cosmetics, and consumer products – in single-plaintiff cases to 10,000-plus claim multidistrict litigation (MDLs).
At a time when consolidated litigations comprise more than 50% of cases in U.S. federal courts, our recognized practitioners are sought after for the breadth of their technical legal skills, complemented by Barnes & Thornburg's national reach with its offices strategically located in the geographic areas where mass torts are litigated. Clients across the country rely on us to devote our energies to helping them discern the right strategy, one that focuses on their business goals and reputation management.
A snapshot of our current client portfolio further demonstrates the depth of our bench. In 2018 alone, our team served as national counsel for nine MDLs and coordinated proceedings, while simultaneously serving as trial counsel, regulatory counsel, settlement counsel, medical expert handlers, e-discovery and data collection counsel, and pre-acquisition/divestiture product liability risk assessment counsel. And most importantly, because we value our client relationships, Barnes & Thornburg is committed to the continued success of our product liability and mass torts practice – dedicating the necessary resources for training and continuing education to ensure that our knowledge and reach will continue to grow to the benefit of our clients.
Going the extra mile to help you with your complex legal needs. Barnes & Thornburg LLP is a national, full-service law firm representing clients ranging from Fortune 500 corporations to entrepreneurial growth companies. We provide services in more than 50 areas, including litigation, labor and employment, global services, healthcare, governmental services and finance, intellectual property, environmental, business, construction, white collar crime, life sciences, real estate, energy, telecommunications, transportation and utilities; and finance insolvency and restructuring.
With more than 700 attorneys and other legal professionals, Barnes & Thornburg is one of the largest law firms in the country. The firm serves clients worldwide from offices in Atlanta, Boston, California, Chicago, Delaware, Indiana, Michigan, Minneapolis, New York, Ohio, Raleigh, Salt Lake City, Texas and Washington, D.C.