Michael B. Victorson
West Virginia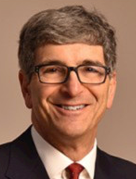 Jackson Kelly PLLC
500 Lee Street East
Suite 1600
Charleston, WV 25301
Tel: 304.340.1079

Email:

mvictorson@jacksonkelly.com
Web:

www.jacksonkelly.com
Michael B. Victorson is a Member in the Manufacturing, Construction, and Energy industry groups, focusing on product liability litigation, including toxic tort and asbestos-related matters. He practices out of the Firm's office in Charleston, West Virginia. He also serves as General Counsel to the Firm.
Michael is a valued member of the Jackson Kelly team, working mainly in the areas of complex and mass litigation, including class actions, in both state and federal courts. Michael has handled the representation of clients in numerous product liability and toxic tort cases. He served for many years as coordinating/liaison counsel for the defendants in statewide asbestos litigation and has been coordinating counsel for groups of defendants in other matters, including pharmaceutical class actions and silica litigation. He also has been defense liaison counsel in national pharmaceutical litigation consolidated by the Judicial Panel on Multidistrict Litigation in United States District Court.
Coordinating multi-party cases requires a special skill set. Fortunately, Michael is a people person – from problem solving to coordinating to strategizing, he loves that his practice allows him to interact with so many clients and colleagues on a day-to-day basis. Whether he's learning the intricacies of a client's business or reviewing the applicable legal code, Michael makes it look easy thanks to his years of litigation experience. From depositions to preparing to go before the court, Michael is adept at all aspects of litigation.
Additionally, Michael handles other matters in the areas of business litigation, environmental litigation, and the defense of personal injury and wrongful death cases. He has appeared and represented clients in numerous state and federal courts at both the trial and appellate levels. As a testament to his skill, Michael was named in Woodward/White's Best Lawyers® as the Charleston, West Virginia Mass Tort Litigation/Class Actions Defendants "Lawyer of the Year" in 2014 and 2018.
Michael is active in the community, having served in leadership positions for the United Way of Kanawha Valley, The Clay Center for the Arts and Sciences, the Federated Jewish Charities of Charleston, Inc., and the B'nai Jacob Synagogue. While some may call him a "foodie," Michael just considers himself a lover of good food. Also interested in travel, he's been all across North America and Europe. One of his favorite stops? The SkyBar in Bangkok, Thailand, made famous in the movie "The Hangover Part II".
Our Product Liability Litigation practice area attorneys have decades of experience in product liability litigation and pre-litigation matters.  Our attorneys defend product liability cases on a local, regional, and national scale in trial and appellate courts. Our attorneys serve as national coordinating counsel, national defense liaison counsel, lead counsel, and local counsel, and have partnered with in-house counsel and local counsel nationwide to coordinate and manage thousands of pattern litigation cases. Our experience is critical for these cases, which often involve complex scientific allegations, catastrophic injuries and wrongful death claims, and high-dollar damages.
Whether the litigation stems from mass litigation, pattern litigation, class actions, multi-district litigation, or individual actions, our attorneys know that a successful strategy is one that is tailored to the client and cost effective. Our experience involves a wide range of products, including aviation, automotive, heavy equipment, medical devices, drugs and pharmaceutical products, asbestos, silica, mass and toxic torts, pesticides, lead, benzene, tobacco, and other consumer and industrial products. Our attorneys work seamlessly with their support staff – which includes paralegals, nurses, and information technology personnel – to implement the complex processes and technologies required for these cases in a cost-effective manner.
Jackson Kelly is a regional law firm with a national reputation, so you get the knowledge, sophistication, experience, and resources of a larger firm with the personal attention and charm of a smaller firm. With leanly staffed cases and an emphasis on efficiency and results, you only pay for experienced attorneys who know the people, the business, and the law – a winning combination.
With more than 160 attorneys located in ten offices across Colorado, Indiana, Kentucky, Ohio, Pennsylvania, West Virginia, and the District of Columbia, and decades of experience, Jackson Kelly is a full-service firm focused on industry-specific needs. Jackson Kelly represents a wide variety of private and public clients across a host of industries and in nearly all aspects of the law. Our attorneys are strategically placed in key industry groups that cover the range of legal issues facing businesses in those industries. Jackson Kelly lawyers know your business and your industry, as well as the law.
The Firm's commitment to its clients is unparalleled. The real proof of the Firm's focus on clients is the fact that so many of them continue relying on our experience for years. Jackson Kelly has long and rich histories with many clients, some stretching back decades. Client relationships like these don't simply happen – they are cultivated and maintained in a way that is often lost in the hectic world of big law. We operate as a cohesive, unified unit providing a range of services to our clients.