Patrick W. Schmidt
Wisconsin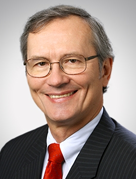 Quarles & Brady LLP
411 East Wisconsin Avenue
Suite 2400
Milwaukee, WI 53202
Tel: (414) 277-5375

Email:

patrick.schmidt@quarles.com
Web:

www.quarles.com
Pat Schmidt is a member of the firm's Product Liability, Toxic Tort and Personal Injury Litigation Practice and has focused his practice on this area of law for over 30 years.
Mr. Schmidt's litigation and counseling experiences has provided him with a practical and working knowledge of mechanical engineering, machine design, warnings, kinematics, ergonomics, biomechanics, metallurgical, accident reconstruction and related principles, as well as damages concepts across a broad range of commercial, intellectual property, product liability and personal injury matters. He also represents clients in commercial and intellectual property litigation matters.
Tried cases in 19 states.
Defended cases in over an additional 20 states and the District of Columbia.
National counsel for crane, forklift, tool, trailer, motorcycle and dockleveler manufacturers.
Wisconsin counsel for manufacturers of automotive, industrial, construction, truck, agricultural, consumer, and other products.
Defense of consumer class action litigation.
Plaintiff and defense work in high-stakes commercial and IP litigation.
Counseling of manufacturers on product design, intellectual property, warnings, safety, record retention and related issues.
The Product Liability, Toxic Tort and Personal Injury Litigation Team at Quarles & Brady has the national experience, knowledge, resources, and proven methods to help manufacturers identify potential product liability issues and concerns, take corrective action, and mount a strong defense both inside and outside the courtroom.
The Product Liability, Toxic Tort and Personal Injury Litigation Team is comprised of experienced trial lawyers who have successfully handled cases in virtually all states and numerous federal courts across the country. We have represented a broad range of manufacturers, distributors, lessors, insurers, and others in both straightforward and complex cases that run the gamut of product liability, toxic tort, class action, and breach of warranty matters and that involve products of all types.
Quarles & Brady is a multidisciplinary AmLaw 200 legal services provider with approximately 475 attorneys practicing at the top of the profession in Chicago, Indianapolis, Madison, Milwaukee, Minneapolis, Naples, Phoenix, Tampa, Tucson, and Washington, D.C. Our national presence allows us to draw upon a group of highly skilled attorneys from all across the country to ensure the right people are working on our clients' matters.
We have extensive experience working with the full industrial gamut, from cutting-edge technology to traditional manufacturing, and we have developed an extensive network of relationships with international legal counsel around the world, allowing us to effectively handle important matters for our clients on a global scale. The firm is led by a diverse team of lawyers and professional staff.
Our clients include major national and multinational corporations, technology companies, educational and research institutions, municipalities and government agencies, charitable organizations, industry executives, and high-net-worth individuals. They are industry leaders in technology, energy, financial services, health care, insurance, pharmaceuticals, real estate, and manufacturing, to name just a few.