Paul G. Cereghini
Arizona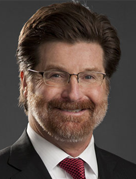 Bowman and Brooke LLP
2901 N. Central Avenue
Suite 1600
Phoenix, AZ 85012
Tel: 602.643.2400

Email:

paul.cereghini@bowmanandbrooke.com
Web:

www.bowmanandbrooke.com
Paul Cereghini is one of Bowman and Brooke's top trial lawyers and has been widely recognized as one of the best product liability trial lawyers in the United States. He defends product manufacturers nationally and has personally defended cases in more than 40 states. Among his most visible assignments, Paul was chosen by Yamaha to try its bellwether cases involving its Rhino side-by-side off-road vehicle which was under attack in hundreds of cases nationwide. He also serves as lead counsel for Riddell in the NFL player concussion litigation.
Describing Paul as "very meticulous in his preparation and attention to detail, as well as thoughtful and thorough in his arguments," (2016) Chambers USA has identified him as a top trial lawyer nationally in automotive product liability for 13 consecutive years, 2008-2021. Recognized by The Legal 500, he was called out again as one of eight Leading Lawyers in the United States in the field of automotive/transport product liability defense in 2008-2021, acclaimed as "an excellent trial attorney who is aggressive and very technologically capable," (2009) and "an outstanding trial lawyer" (2012) who instills in clients much confidence in his courtroom.
As one of the firm's founding attorneys, Paul focuses his practice on defending household name corporations, including manufacturers of automobiles, motorcycles, all-terrain vehicles, helmets, material handling equipment, electrical components and medical devices against product liability and other major liability claims. In his cases, Paul frequently deals with mechanical engineers, computer scientists, incident reconstructionists, biomechanics and other technical experts. He has defended his clients to verdict in more than three dozen catastrophic injury and wrongful death trials and defends multi-plaintiff consolidated matters and class action.
Bowman and Brooke has defended thousands of wrongful death, catastrophic personal injury and other product liability claims brought against motor vehicle, chemical, construction, drug and medical device, heavy equipment and recreational equipment manufacturers. Day in and day out, we challenge well-financed plaintiff attorneys in locales unfriendly to business interests across the country. Through intensive preparation, creative presentation and persuasion, we become your advocates in both the courtroom and at the bargaining table.
We tailor our advocacy to your needs. Our legal teams develop a personal knowledge and appreciation of your organization's business and culture as well as your product design, testing and quality control procedures. We develop a deep understanding of the technical and scientific principles applicable to your products. We field a team of trial lawyers, paralegals, investigators and experts devoted to your case from start to finish. We individualize our communication with you, the in-house lawyers and engineers who provide critical perspectives, experiences and skills to the defense team.
Bowman and Brooke LLP is a nationally recognized trial firm with one of the largest product liability practices in the country.
Since 1985, we have defended corporate clients as both lead trial counsel and national coordinating counsel in high-exposure and technically intricate lawsuits in multiple jurisdictions. The firm's attorneys defend a variety of corporate clients, including Global 500 and internationally-based companies, in widely publicized catastrophic injury and wrongful death matters as well as other complex litigation. We have tried cases in more than 350 courthouses in 48 states, Puerto Rico, the U.S. Virgin Islands and several Canadian provinces.
We regularly try precedent-setting bellwether cases and have become a national presence in defending our clients in class actions, federal multi-district litigation, state consolidated actions and other complex matters. Our resources go beyond our core group of first-chair trial lawyers to include the legal analysis and briefing brainpower necessary to aggressively and tirelessly pursue the results our clients demand, both in the boardroom and in the courtroom.
"Paul Cereghini chairs the firm and regularly acts as lead trial counsel in large-scale product liability cases and personal injury matters for major automobile companies. He also acts on concussion injury litigation."