Richard A. Oetheimer
Massachusetts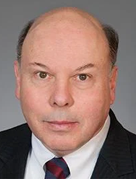 Goodwin Procter LLP
100 Northern Avenue
Boston, MA 02210
United States
Tel: +1 617 570 1259

Email:

roetheimer@goodwinlaw.com
Web:

www.goodwinlaw.com
Rich Oetheimer, a partner in Goodwin's Products Litigation and Counseling practice, specializes in the defense of mass tort and products liability actions, and business and real estate litigation. He has been recognized as a top-rated Products Liability and Mass Torts lawyer by The Legal 500, American Lawyer, Benchmark Litigation, Corporate Counsel and The National Law Journal and a Super Lawyer for Business Litigation.
Mr. Oetheimer has extensive experience in the defense of product liability and mass tort claims against manufacturers of prescription drugs, medical devices, chemical substances, foods and dietary supplements, cosmetics and consumer products. His experience includes defense of asbestos, talc, DES, PPA, Reglan/metoclopramide, Pradaxa, ephedra, heart valve and Dalkon Shield IUD litigation, including participation in jury trials in federal and state courts. He served as lead counsel in the U.S. Supreme Court case that established federal preemption of generic drug failure to warn lawsuits and participated as amicus in the follow-on case finding federal preemption of generic drug design defect claims.
Mr. Oetheimer's Products Liability and Mass Torts experience includes:
Teva Pharmaceuticals USA, Inc. in PLIVA, Inc. v. Mensing, finding federal preemption of state law tort claims against generic drug manufacturers under the Hatch-Waxman Amendments to the FDA Act. 564 U.S. 604 (2011).
Generic Drug Manufacturers in Strayhorn v. Wyeth Pharma, Inc., successfully arguing in the U.S. Court of Appeals for the Sixth Circuit that the plaintiffs' design defect and warning claims are preempted by federal law. 737 F.3d 378 (6th Cir. 2013).
A cosmetic contract manufacturer Kolmar Laboratories in litigation in multiple jurisdictions, alleging personal injury due to alleged asbestos contamination of talc used in cosmetic talcum powder products.
Aircraft manufacturer and government contractor Northrop Grumman Corporation and shipyard owner Huntington-Ingalls Industries in asbestos personal injury litigation across multiple jurisdictions.
Multiple clients in defense of pharmaceutical product liability claims arising from adverse events in human clinical trials and advice concerning clinical trial agreements, protocols, informed consents and liability insurance.
Our Products Litigation and Counseling lawyers combine extensive medical, scientific and engineering expertise with sophisticated litigation management and trial strategies. For more than 40 years, we have defended makers of pharmaceuticals and medical devices, building materials, food and dietary supplements, recreational equipment, petroleum, industrial machinery and other products, against national mass tort actions. Our lawyers have also litigated a host of other high-profile products, mass tort and class action cases, including those involving manufacturing processes and alleged chemical and environmental exposures.
Our Products Litigation and Counseling lawyers are well-known for successfully litigating and trying high-stakes cases. Our teams serve as national and lead industry counsel, supervise local counsel, coordinate multidistrict litigation and develop nationwide and multinational defense strategies. We are also well-versed in matters relating to manufacturing processes and alleged chemical and environmental exposures.
We pursue novel approaches – in motion practice, in settlement negotiations, and at trial – to achieve outcomes that favor our clients' immediate as well as long-term interests. While we've resolved complex, multibillion-dollar disputes quickly and efficiently, we're trial lawyers at heart, not afraid to take aggressive positions and win with a jury when we and our clients believe it's the best approach.
We are a global law firm with a history of working on groundbreaking matters, and an increasingly focused approach to working with clients in the 
f
inancial, private equity, real estate, technology and life sciences industries. Our more than 1,800 corporate and litigation lawyers leverage their specific experience and assemble full-service teams to advise clients in these and adjacent industries.
It's not just what we do. It's why we do it — We strive to help you succeed, however you define success. You receive our best in every engagement – from an A-team roster focused on the matter at hand, to the collective know-how of highly collaborative lawyers in specialized practices across the firm. By helping you make the most of leveraging opportunities, protecting what's important, and clearing obstacles in your way, Goodwin is recognized as a leader in the markets we serve.
At Goodwin, we use law to enable our clients' success. When we partner with our clients to practice law, we do so not just with integrity, but with ingenuity, agility and ambition. And in so doing, we are able to make a powerful, positive and lasting impact.